Port Huron High School
Class Of 1961
ANNOUNCEMENTS
Plan to attend our PHHS '61 reunion 5pm on
Saturday July 16th at City Flats (former Michigan Bank)
$35 per person including tax and tip for dinner and event
dinner includes Caesar salad, twice baked potato, green beans, roll and butter,choice of 1 of 3
main courses and dessert.
Make your reservations now....send checks to:
Anne Hastings Baker
5790 Old Sawmill Lane
North Street, MI 48049
Please specify choice of main course:
Baked chicken with light cream Chardonnay sauce with almonds and grapes
Hickory crusted Salmon with pesto breadcrumbs and lemon Beurre Blanc
New York strip steak with red wine Demi-glacé, cooked Medium
Please specify choice of dessert:
New York Cheesecake with seasonal berries
Carrot Cake with pecans and warm cream cheese frosting
Are you having trouble signing in?
Enter your email address and your password. If you have changed email address, click on the CONTACT US button in the left column and include your latest email address. We'll respond with a new temporary password. If you have NOT changed your email address, and are still having problems with your password, You can have your password of record emailed to your existing email address.
---
Keep Up With the news
About the Class of 1961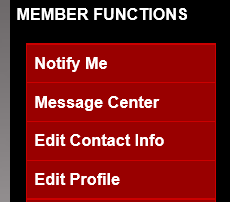 These in-between reunion years means you may not visit our website very often. There's a way you can still keep up with what's new here by opting into notifications sent by email for specific kinds of events that are new or updated at our porthuronhighschool.info website.
Click on the Notify Me link in the left colum and you can choose the types of changes which might be made to the website and how you want to be notified. For example, when a specific friend updates their profile, or when a class member has been added to the In Memory page, or when a new annoucement or webpage has been edited or added.
Posted 12/14/2012
---
Meet the old gang again...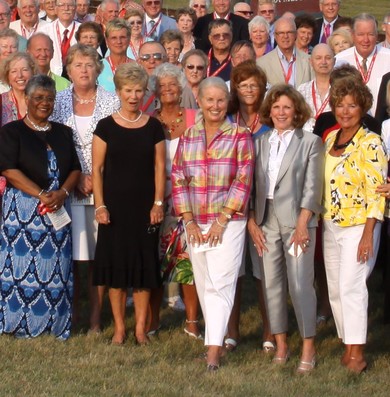 Click on the picture at right to see the group photo taken below the Blue Water Bridges between the reception and the dinner/dance on July 16. A few shy classmates are not included in the final photo at their request. We counted 200 class members and 105 guests for the main event. Only class members are shown in this group photo. The larger image will open in a new pop-out window. Click again on the new image to enlarge or reduce the size. Click out, reposition the mouse and click in to focus on different faces.
Posted 07-20-2011
---
Port Huron Area Weather
Clicking on links inside this box will open the linked information in a new window/tab.
Five Minute Medley of 1960's music. CLICK HERE TO PLAY