Port Huron High School
Class Of 1961
In Memory
Richard D Anger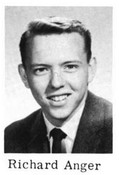 Richard D. "Rich" Anger, 63, of Clyde Township, died Saturday, January 13, 2007 as a result of a stroke suffered one month before.
He was born May 31, 1943 in Port Huron to Henrietta and the late Herbert Anger.
He married Patricia Charbonneau on May 8, 1976 in Port Huron.
Rich was a businessman, entrepreneur, loving husband, devoted father and grandfather, sportsman, and wonderful friend. He was stationed in Germany with the U.S. Army during the Vietnam War and returned to Port Huron in 1968. He owned and operated Auto Color and Equipment since the early 1970's.
He is survived by his wife, Pat; son, Scott (Kim) Anger of Johnson City, Tennessee; daughter, Dr. Colleen (Kevin) DeLacy of Fort Gratiot; grandchildren, Scott and Michael Anger; his mother, Henrietta Anger of Clyde; mother-in-law, Monica Charbonneau; sisters-in-law, Mr. and Mrs. Randy (Lynn) Burgett of Fort Gratiot and Mr. and Mrs. David (Gail) Monikean of Port Huron; several nieces and nephews; and many long time friends.
A memorial service was held January 16, 2007 at First United Methodist Church of Port Huron with Reverend David Gladstone officiating.