Port Huron High School
Class Of 1961
In Memory
David W Ballard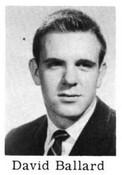 The Rev. David W. Ballard
The Reverend David Ward Ballard, 64, of Port Huron went home to His Lord on November 24, 2007.
He was born April 14, 1943 in Port Huron to Althea Ballard Loshaw and the late Walter Ballard. He married Janice Heath November 24, 1962 at the Port Huron Church of God.
David was a graduate of Port Huron High School class of '61 and Olivet Nazarene University. He worked for the Department of Social Services for 29 years, changing many lives. He was the pastor of Bluewater Church of the Nazarene for 11 years and chidren's pastor of North Hills Church of the Nazarene and Port Huron Church of the Nazarene for over 30 years. He served on ministerial boards for the Church of the Nazarene and Youth For Christ, was a volunteer for Habitat for Humanity and served as a chaplain at Port Huron and Mercy hospitals. However, all of these endeavors were simply symptoms of his one true passion -- using his incredible people skills to touch people's lives and lead them to a relationship with Jesus Christ.
His hobbies included doting on his grandchildren, who he loved dearly, traveling, coffeehouse hopping, going to garage sales and any opportunity to tell a joke and make people feel good about themselves.
He is survived by his wife of 45 years, Janice Ballard, two daughters and sons-in-law; Susan and John Zacharias and Katy and Ray Burkett; four grandchildren; his mother Althea Loshaw; brothers and sisters-in-law and sisters and brothers-in-law and many nieces and nephews.
Funeral services were held at 11:00 am on Tuesday, November 27, 2007 in First Church of the Nazarene, Port Huron. The Reverend Keith A Sparks, Sr. and Dr. Stephen Anthony officiated.