Port Huron High School
Class Of 1961
In Memory
James A Billins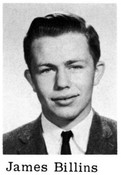 James (Jamie) Billins, 57, died unexpectedly in his home Thursday, November 1, 2001.

He was born November 6, 1943 in Toronto, and was the first of five sons born to John and Annie Billins.

Jamie lived a life of sales and service. He lived most of his life in the Port Huron area and served in the U. S. Army in 1965.

He was a lifelong member of the Reorganized Church of Jesus Christ of Latter Day Saints.

Jamie loved arts and was a past member of the Port Huron Civic Theater and Schubert Club.

He is preceded in death by his father and mother, John and Annie Billins. He is survived by his four brothers, John, of Punta Gorda, Florida, Jeffrey of Port Huron, Jerome of Murrieta Springs, California, and Jason of Marysville' and 13 nieces and nephews.