Port Huron High School
Class Of 1961
In Memory
Ralph F Bowers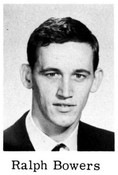 Ralph F. Bowers, age 60, of Port Huron died Thursday, March 13, 2003.

He was born in Port Huron April1, 1942 to the late William and Rachael Bowers.

Mr. Bowers was a funeral counselor for over 30 years in the Port Huron area.

He was a member of St. Joseph Catholic Church, Port Huron and a member and four time past commander of the Charles A. Hammond Post #8 American Legion.

His membership also included the VFW #796, Belcher Lane Detatchment Marine Corps League, Voiture Locale 40/8, Loyal Order of Moose Lodge #158.

Ralph served in the United States Marine Corps in Vietnam. He was an associate member of the Ruby Lions Club.

He was very active in the Boy Scouts and served as a coordinator for the Mackinac Island Service Troop #168 for over 20 years.

He is survived by his brothers, Raymond Bowers, Thomas Bowers, Joseph Bowers, all of Port Huron and George Bowers of Jacksonville, North Carolina; his sister MaryAnn Rau of Manalapan, New Jersey, ten nieces, eight nephews' and 23 great-nieces and nephews. He was preceded in death by a brother, William and a sister Helen.

Funeral services were at St. Joseph Catholic Church. Internment was in Mount Hope Cemetery.