Port Huron High School
Class Of 1961
In Memory
Gerald E Brown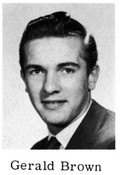 Gerald 'Jerry' Edison Brown, 46, died unexpectedly Monday, April 30, 1990, in his home.
He was born October 15, 1943, in Port Huron and was a lifelong St. Clair County resident.
Mr. Brown was a pipefitter for Detroit Edison Co. He was a well driller, excavator and landlord. He served in the U.S. Navy and was a member of American Legion Post 225.
He is survived by his fiancee, Melissa Sue Innes of Smiths Creek; son and daughter-in-law, Daniel and Leona Brown of Eben Junction; daughter and son-in-law, Cheryl and Jon Liniarski of St. Clair; son, Gary Brown of Port Huron; six grandchildren; parents, Jack and Dorothy Brown of Port Huron; brother and sister-in-law, Mark and Terry Brown of Spring Lake, and several nieces, nephews, aunts, uncles and cousins.
Services were held at Jowett Funeral Home with Rev. Donald Krueger, pastor of Faith Lutheran Church, officiating. Burial was in Lakeside Cemetery.