Port Huron High School
Class Of 1961
In Memory
Arthur W Cooley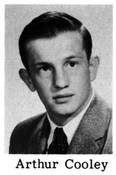 Mr. Arthur William Cooley, 59, of Marysville, ascended into heaven on Monday, July 15, 2002.
He was born May 18, 1943, in Port Huron to Richard A. Sr. and Virginia Rabie Cooley. He married Laura Stone Lester.
Mr. Cooley was a devoted and loving husband and father who enjoyed spending time with his daughter and wife.
He was employed as a master electrician and Prestolite Wire Co. and then with the State of Michigan's Southgate Regional Center.
He enjoyed fishing, hunting, bowling and playing checkers and loved his pet cat, Fluffy, and dog, Muffin.
He is survived by his wife, Laura; a daughter, Heather Lynn Cooley, his mother, Virginia Cooley of Port Huron; two brothers, Mr. and Mrs. Richard (Carol) Cooley Jr. of Port Huron Township, and Thomas Cooley of Ann Arbor; three nephews, Richard Mark, and Jimmy.
He was preceded in death by a daughter, Lisa and his father Richard Cooley Sr.
Services were held Thursday, July 18, 2002, officiated by Rev. Daniel Bakay of First Baptist Church, Port Huron.