Port Huron High School
Class Of 1961
In Memory
Donald B Demeritt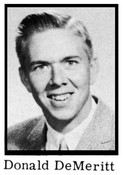 Donald Brian DeMeritt, 34, Fayetteville,Tenn., was killed in an automobile accident. DeMeritt was born February 26, 1943, in Lansing.
He was a 1961 graduate of Port Huron High School and graduated from Ferris State College in 1968.
He and Kathleen Hornburgh, Port Huron, were married in 1965 in Port Huron. They lived in Fayetteville for the last seven years.
DeMeritt is survived by his wife Kathleen (Hornburg) Demeritt, PHHS Class of '61; two sons, Donald and Steven DeMeritt, and a daughter, Lisa DeMeritt, all of Fayetteville; his parents, Dr. and Mrs. Donald E. DeMeritt, Port Huron; his grandfather, Ursin Goodman, Curtis, Mich.; two brothers, Ronald J. DeMeritt, Cadillac, and Thomas DeMeritt, Madison, Wisc.; and two sisters, Mrs. Martha Shauer, Johnston, Pa, and Cheryle DeMeritt, Port Huron.
DeMeritt was cremated in Fayettevile. Memorial services were held in Fayettevill and in the West Haven Baptist Church, Port Huron.