Port Huron High School
Class Of 1961
In Memory
Thomas A DiDuca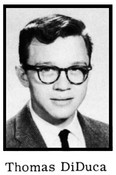 Thomas A. DiDuca, 65, of Mount Prospect, IL, formerly of Port Huron, died peacefully in his home on Friday, August 8, 2008.
He was born April 28, 1943 in Port Huron to the late Albert A. and Louis C. (Burnham) DiDuca.
Tom is survived by his wife, Nancy R. DiDuca, and children Bradley (Jeanette) DiDuca, Steve, Stacey and Brian DiDuca.
Services were held August 12 in Mt. Hope Cemetery.