Port Huron High School
Class Of 1961
In Memory
William R Edwards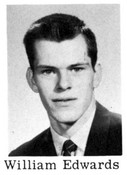 William Robert Edwards, 59, died Tuesday, August 20, 2002, at Ogden Regional Medical Center from complications following a stroke.

He was born February 19, 1943, in Fort Gratiot, a son of Robert and Elizabeth Edwards. On December 14, 1963, William married Pat Jones in Roy, Utah.

He was reared and educated Michigan and lived in Ogden, Utah area for 22 years.

William was a member of St. Michaels Episcopal Church.

He retired from the U. S. Air Force following 21 years of service. He also served in the Vietnam War. William worked as a resident advisor to Clearfield Job Corps.

Surviving are his wife, Pat of Ogden, Utah; two sons and one daughter, Robert of Hooper, Utah, Blaine of Kansas City, Missouri, and Becky Stack of Pleasant View, Utah; and six grandchildren.

William is also survived by three sisters, Rose Cocco of Port Huron,, Alice Keener and Pat Hammond, both of Fort Gratiot.