Port Huron High School
Class Of 1961
In Memory
Karen L Glaab (Fair)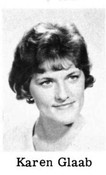 Karen L. Fair, age 61, of Port Huron, passed away December 22, 2004 at Port Huron Hospital.
She was born to WIlson and Gerldine Glaab on July 22, 1943 in Port Huron, attended the Port Huron schools, graduated from Port Huron High School in 1961, and later graduated from Port Huron Cosmetology College.
On July 20, 1963 Karen married Louis S. Fair in Harrison MI. She worked many years as a bank teller at various local bands including Michigan National Bank, Peoples Bank and NBD Bank. She also worked at the McDonalds Restaurant on Pine Grove Ave.
Karen was an excellent cook and she enjoyed bowling, camping and gardening. She especially enjoyed family get-togethers and looking after several of her grandchildren.
She is survived by her husband of 41 years, Louis S Fair (Class of '61); her four children, Steven Fair, CA; Traci (James) Regan, Croswell MI; Richard Fair, Port Huron; and Teresa (Mark) Baker, Kimball; her five grandchildren, James, Jennifer, Courtney, Cory and Abbey; her father, Wilson Glaab; a sister, Joan Hill, Fort Gratiot; and her mother-in-law, Bernadette Fair, Fort Gratiot.
She was preceded in death by her mother, Geraldine Whybrew Glaab and a grandson, Ryan Baker.
Funeral services were held Sunday, December 26, 2004.