Port Huron High School
Class Of 1961
In Memory
David L Gregg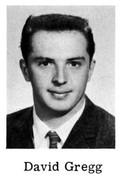 David Lawrence Gregg, age 62, of Mayville, died Thursday, November 10, 2005 at Caro Community Hospital in Caro.
David was born February 1, 1943 to D.L. and Dorothy (Rapson) Gregg in Pontiac, Mi.
He attended Port Huron High School, then was employed at the A.C. Spark Plug Factory in Flint, Mi where he retired as a Tool and Die Journeyman. He served his country in the Navy during the Cuban Missile Crisis.
He enjoyed hunting,fishing and had a passion for adventure and was well known for his ability to trade and barter.
David is survived by three children, Christine (Douglas) McLane of Lake Orion, Lee Ann (Jeremy) Bower of Grand Blanc, Michael David Gregg of Grand Blanc; four grandchildren; dearest friend and companion, Suzanne Gromada of Bay City; sister Diane (Alvin) Gross of Port Huron; brother Steven (Denise) Gregg of Port Huron.He was preceded in death by his parents and a brother Christopher. Interment was in West Dayton Cemetery.