Port Huron High School
Class Of 1961
In Memory
Janice K Heath (Ballard)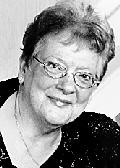 Janice Kay Ballard, 64, of Port Huron, went home to be with the Lord May 7, 2008. She was born June 18, 1943 in Port Angeles, Washington to Norma (Cornwell) Heath and the late George Heath.
Janice married David Ward Ballard on November 24, 1962. David, her high school sweetheart and husband of 45 years, preceded her in death on November 23, 2007. Janice was a graduate of Port Huron High School class of '61 and Olivet Nazarene University.
She worked for the Port Huron School District for 29 years as a Home Economics and English teacher, touching many lives. She served the Lord with her husband at Blue Water Church of the Nazarene in Marine City for 11 years. She ministered to the children of North Hills Church of the Nazarene and Port Huron First Church of the Nazarene for over 30 years as Youth Director and Children's Pastor.
Her joy and expertise whether practiced in a home economics class or in her dining room was her hospitality. Be it family, friends, or strangers, she showered them with kindness. She touched people's lives with the hope that they might come to a relationship with Jesus Christ. Her hobbies included doting on her grandchildren, whom she loved dearly, cooking, gardening, reading, traveling and watching the Detroit Tigers.
She is survived by two daughters, Susan and John Zacharias of Spring Hill, Tennessee and Katy and Ray Burkett of Clyde; four grandchildren, Spencer and Katelyn Zacharias and Raven and Ian Burkett; her mother, Norma Heath; two brothers, Tom and Jan Heath and Dan and Pam Heath; three sisters, Karen and Larry Sanders, Susan Heath and Nancy and Larry Osborn; and sisters-in-law and brothers-in-law, her mother-in-law, Althea Loshaw; and many beloved nieces and nephews.. Funeral services were held May 10, 2008 in First Church of the Nazarene, Port Huron. The Reverend Keith Sparks officiated.