Port Huron High School
Class Of 1961
In Memory
David E Johnson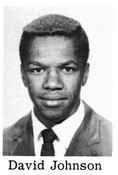 David E. "Sugar Pie" Johnson, 60, of Clyde Township passed away Thursday, September 12, 2002, in Port Huron Hospital following a short illness.
He was born to the late Willie and Louise Johnson on August 10, 1942, in Port Huron.
He worked for Chrysler Corp., Marysville, retiring in 1977. Following his retirement, he enjoyed his leisure time. Two of his favorite pastimes were riding his Harley Davidson motorcycle and making guitars.
He is survived by his six children, Shiela (Ray) Johnson-Moses of Las Vegas; David J. Johnson Jr., Colleen Johnson, Sonya (Clarence) Johnson-Thompson, and Peter Johnson, all of Port Huron, and Myra Sears of Deaborn Heights; eight grandchildren, David, Davon, Jontel, C.J., Breah, Onrey, Zachary, and Justin; four brothers, James (Ruth) Johnson and Willie Johnson Jr. both of Port Huron; a host of nieces, nephews and friends including a special friend, Sharon Hall.
Funeral services were held on Tuesday, Sept 17, 2002 with burial in Lakeside Cemetery. A memorial service was held at the American Legion on Sixth Street following the funeral service.