Port Huron High School
Class Of 1961
In Memory
Albert Kieth Jones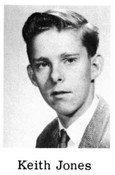 Albert Keith Jones, 56, of Croswell, MI, died Monday, Sept. 21, 1999 in Mercy Hospital.
Albert was born March 6, 1943 in Port Huron. He married Donna J. Hutchins on March 27, 1965, in Port Huron.
Mr. Jones was a lift-truck driver and a 4-H leader for 19 years in Sanilac County.
Mr. Jones is survived by his wife, Donna J. Jones of Croswell; daughter, Hollie M. (Patrick) Jones Gallagher of Clinton, MI; son Todd J. Jones of Croswell; brother Carl B. Jones of Port Huron and sister Donna Kelch of Avoca.
Funeral services were held October 1, 1999, at the Arthur Smith Funeral Home in Port Huron with The Rev. Pastor Tom Seppo of Life of Faith Fellowship officiating. Burial was in Christian Memorial Cultural Center.