Port Huron High School
Class Of 1961
In Memory
Robert A Karl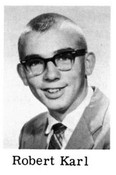 Robert A "Bob" Karl, 63 of Port Huron Township, passed away on Saturday, July 8, 2006 in his residence following a long illness.
He was born to Allen and Elsie Karl on June 25, 1943 in Port Huron, attended the Port Huron schools, and graduated from Port Huron High School in 1961.
Bob served four years in the U.S. Navy and on April 1, 1967 he married Bonnie Knowlton in Port Huron. He worked for many years at U.P.S. and then at Earl C. Smith Frieght. He was a member of Teamsters Local #339.
Bob loved to go fishing, hunting and boating, and playing horseshoes. He also enjoyed playing the accordian and harmonica. He especially enjoyed his nine trips to Maui and spending time with his grandchildren.
He is survived by his wife of nearly 40 years, Bonnie K. Karl, his four children, Michelle R. (Paul) Beeler of St. Clair Twp, Norman F. Karl of Lapeer, Curtis A. (Jackie) Karl of Port Huron Twp., and Rebecca L. (David) Fockler of Lakeport, his six grandchildren, Jared, Colton, Makenna, Eric, Peter and Katie; and special granddaughter, Tanna. He is also survived by other family members and his pet dog, Smoothee.
A service is Bob's memory was held on July 11, 2006 in Smith Family Funeral Home - North.