Port Huron High School
Class Of 1961
In Memory
Kenyon L Kramp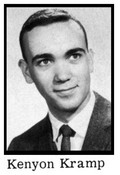 Kenyon Lewis Kramp, 42 died October 23, 1985. He was born June 14, 1943 in Port Huron.
He never married. Mr. Kramp was a graduate of Port Huron High School, graduated summa cum laude from St. Clair County Community College. He also graduated from the University of Hawaii and Fullerton State College with honors. He also attended Oakland University.
He operated Kenyon Nursery, Pomona and Anaheim Calif. until 1984. He was an accomplished concert pianist. He participated in and won many science fairs in high school and college. He was a member of Phi Kappa Phi College Honor society and attended St. Mary's Church.
He lived in California and Hawaii 22 years before returning to Port Huron in June 1985. Mr. Kramp is survived by his parents, Irv and Ginny Kramp, Port Huron; a brother and sister-in-law, Darrell I.J. and Lorraine Kramp, Farmington Hills; a grandmother, Cecelia C. Kramp, Port Huron, a nephew, Eric Joseph Kramp and a niece, Gretchen Marie Kramp, both Farmington Hills; and three uncles, R. Leo Kramp and Robert C. Kramp, both Port Huron, and Donald C. Kramp, Milwaukee, Wis.
Services were held in St. Mary's Church with the Reverend Francis A. Weingartz, pastor, officiating. Burial was in Mt. Hope Cemetery.