Port Huron High School
Class Of 1961
In Memory
Robert G Lewandowski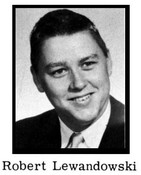 Robert G. Lewandowski, 65, of Port Huron Township, died Friday, November 28, 2008 in Mercy Hospital.
He was born December 30, 1942 in Port Huron to the late John "Jack" and Melba Lewandowski. He married Karen Denman (PHHS Class of '61) on April 16, 1968 in Port Huron.
Mr. Lewandowski was co-owner of Lewandowski Auto Parts. He was a member of the Lions Club for over 40 years, serving as past district governor and past club president. He was also a life member of the Elks Club and volunteered with the Old Newsboys. He enjoyed playing cards and had belong to the Port Huron Township Euchre Club. He enjoyed camping with his family, hunting and fishing.
He is survived by his wife of 42 years, Karen; three sons, Robert (Lori) Lewandowski, Jr. of Port Huron Township, three grandchildren, Emily, Owen and Olivia Lewandowski; two sisters, Geri (Gary) Steemburg and Linda (Ron) Barr, all of Port Huron Township; several nieces and nephews; and a friend since childhood, George Brown.
Services were held on Monday, Decemeber 1, 2008 with the Reverend Gordon Peterson officiating. Burial was in Woodland Cemetery.