Port Huron High School
Class Of 1961
In Memory
Nancy C London (Reding)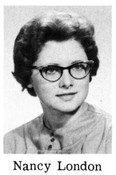 Nancy Carol London Reding was born on November 6, 1943 in Port Huron, Michigan. She was the first of four children born to Max and Mary London, followed by her sister Bonnie, her brother Dennis, and her sister Susan.
She attended the one room Centennial School through the eighth grade, and graduated from Port Huron High School in 1961.
Nancy then attended Port Huron Junior College, where she me her future husband, Rivard Reding of Armada, Michigan. Nancy and Rivard were married on August 29, 1964 in Port Huron; they went on to finish their undergraduate degrees at Eastern Michigan University in Ypsilanti.
Nancy and Rivard served as Peace Corps volunteers in Kingston, Jamaica from 1965-1967. Upon returning to the U.S., Nancy was a librarian at Lincoln Junior High in Wyandotte, Michigan until the birth of their son Matthew in 1970.
Nancy earned her Master's Degree in Library Science from Wayne State University in 1975. The family moved from Wyandotte to Ann Arbor the same year, and their daughter Margaret Louise (Mollie) was born in 1977. Nancy became a partner in The Learning Center, Ltd., and helped build the company's present reputation for excellence in educational computer and software consulting.
Nancy was a member of Trinity Lutheran Church, where she served as a Sunday School teacher, Church Council member, on the Altar Guard, and as a faithful member for many years. She was a friend to many in the community and enriched all the lives she touched.
Nancy died peacefully at home on December 20, 1994, after a courageous year-long battle with pancreatic cancer.