Port Huron High School
Class Of 1961
In Memory
Linda Elizabeth Lucas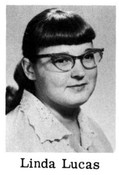 Linda Elizabeth Lucas, 64, of Port Huron, died Friday, August 24, 2007 of complications from cancer.
She was born March 19, 1943 in Port Huron and was a life-long area resident. She was the daughter of former St. Clair County Sheriff Ferris E. Lucas and Isabelle Kirkpatrick Lucas, a registered nurse from Petrolia, Ontario.
She graduated from Port Huron High School in 1961 and later from Mott College. She received her Nurse's cap from Hurley Hospital School of Nursing, Flint. She worked in the former Margaret Jenks Pediatric Unit of Port Huron Hospital and also did private duty nursing. A talented cloth doll marker, she was the owner of Lucasdolls Inc. and also an avid quilter.
She was a member of Grace Episcopal Church and an Associate member of the Community of St. Frances, San Francisco. She was the founder, study leader and a member of the Daughters of the King. She was a past Chairman of the St. Clair County Young Republicans, was the founder and leader of the Comstock Hills 4-H Youth Group and was a past Superintendent of the St. Clair County 4-H Youth Fair. She was an active member of the Arthritis Foundation's YMCA Aquatic Program and had several close friends there.
She is survived by her daughter, Laurie A. Lucas and a son, James E. Lucas, both of Livingston County; a son and daughter-in-law, Ferris E and Lisa Lucas; and two grandchildren, Grace and Hannah, all of Fort Gratiot.
She was preceded in death by her parents, and her life-long best friend, Jeanette Mann Lawson of Ladson SC.
Services were held Sunday, August 26, 2007 with Reverend Robert Trask officiating.