Port Huron High School
Class Of 1961
In Memory
James E McFarlane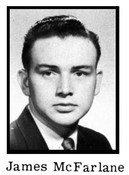 James Edward McFarlane, 38, of 1413 Georgia, Marysville, died Monday, November 16, 1981, in his home.
He was born March 5, 1943, in Port Huron, and lived in Marysville since 1971. He married Judith Storey, September 23, 1961, in Port Huron.
Mr. McFarlane was a supervisor at Dunn Paper Co., for the last 13 years. He was president of Local 1017, United Paperworkers International, AFL-CIO.
He is survived by his wife, two sons, Scott E. and Troy, Marysville; his parents, Mr. and Mrs. Thomas Henry McFarlane, Port Huron; two brothers, Thomas E., Goodells, and Robert K., Marysville; and a sister, Mrs. Frank (Donna) Chartier, Port Huron.