Port Huron High School
Class Of 1961
In Memory
William M Oliver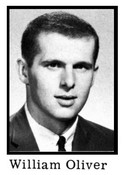 William M Oliver, 64, of Fort Gratiot Township, passed away Sunday, May 6, 2007 in Mercy Hospital following a long battle with cancer.
He was born to William and Geraldine Oliver on March 14, 1943 in Battle Creek, attended the Port Huron schools, graduated from Port Huron High School in 1961, and received his Associates Degree from Ferris State University.
On October 11, 1975 Bill married Nan Foster. He worked for the St. Clair County Road Commission for 35 years retiring in 1999 as Director of Operations.
He loved the outdoors and working in his beautful yard. Bill and Nan particularly loved trailering their Sea Ray to many remove places such as the Trent Severn waterway, 1000 Islands, Georgian Bay, and the Muskoka Lake region, among others.
Bill was very devoted to St. Paul's Episcopal Church, serving several times on the vestry. As property chairman, he took care of the church buildings and surroundings. He was a very hones, compassionate, and caring individual, and dearly loved his family, neighbors, friends and St. Paul's parishioners.
Bill is survived by his wife of nearly 32 years, Nan F. Oliver, his son, Andrew (Stacey) Oliver; his grandson, Gabriel Andrew Oliver, his sister, Patricia (Dick) Bingham; his father-in-law, Louis Foster II; his brother-in-law, Lou Foster III; a nice, Abbey (Jim) Brown and their children, Madison and Carson; and two nephews, Rick (Ronda) Bingham and Ron (Kerri) Bingham and their children, McHale, Noell, Logan, and Brendan.
He was preceded in death by his parents and his mother-in-law, Ruth Foster.
A service in Bill's memory took place on Saturday, May 12, 2007 in St. Paul's Episcopal Church with the Rev. Rollin Norris officiating. Internment was at Lakeside Cemetery.