Port Huron High School
Class Of 1961
In Memory
Karen S Penn (Washe)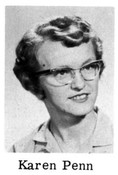 Karen S. (Penn) Washe, age 61, of Port Huron, passed away on Thursday, September 23, 2003 in her residence after a short illness.
She was born March 13, 1942 in Amadore MI, daughter of the late Walter and Dorothy Penn.
Karen married Larry C. Washe on July 7, 1962 in Port Huron.
She was a long time waiteress; a member of the V.F.W. Post #796 Ladies Auxiliary and was a past secretary.
Karen was an avid Detroit Tigers fan and loved playing cards. She adored her grandchildren.
She is surved by her husband, Larry of Port Huron; her son and daughter-in-law, Paul and Lori Washe of Clarkston; daughter and son-in-law, Barbara and Jason Littleton of Marysville; three grandchildren, Paul Washe, Timothy Washe and MacKenzie Littleton; sister and brother-in-law, Marijean and Jarold Hawks of Croswell; sister and brother-in-law, Linda and Rick Fey of Houston, Texas; and several nieces and nephews.
Funeral services were held on Sunday, September 26, 2003 with the REverend Linda Fuller, pastor of the Bethel United Methodist Church officiating. The VFW Post #796 Ladies Auxiliary conducted a memorial service.