Port Huron High School
Class Of 1961
In Memory
Charles A Rowe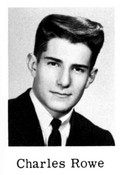 Charles Arthur Rowe was born September 15, 1943 to Dr. Robert E and Lucille (Grimes) Rowe in Ann Arbor, Michigan. He passed away at the age of 63 on June 26, 2007 in San Antonio, Texas.
Charles grew up in Michigan, graduating from Port Huron High School in 1961. He received degrees from Ferris State University and Wayne State University. Charles worked for General Motors in Michigan at the Tech Center and Milford Proving Grounds.
A most enjoyable work was in Special Projects including Board of Director Meetings and Shows. He changed careers turning to Corporate Development for Michigan Technical University. From there he was Director of Corporate Development at the University of North Carolina at Chapel Hill. Charles volunteered development programs for churches and nonprofit organizations for many years.
His interests were varied from karate, target practice, sailing, learning trivia and facts, teaching and basketball. Charles was truly a strong individual and a man of God. His kindness and generosity were extended to all. There was no challenge he would not resolve is asked of him. One favorite holiday was April Fools'. He will be most remember as always being there, never giving up, and finishing what he started.
Charles is survived by: his wife of 28 years, Jill (Kellogg) Rowe (PHHS Class of '61); their three children, Jennifer, Jeffrey (Mary) Rowe, and Jonathon Rowe; two daughters from a previous marriage, Christine Zeigler and Andrea O'Brien; two brothers, Robert and James; and five grandchildren.
A memorial service for Charles, mother, Lucille, and father Dr. Robert E Rowe was held August 4, 2007 at the Eagle Harbor Cemetery with a reception following at St. Peter's By-the-Sea Community Church, Eagle Harbor, Michigan.