Port Huron High School
Class Of 1961
In Memory
Sally A Smith (Horvath)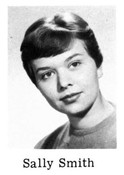 Sally Ann Horvath, age 50, of Port Huron, passed away unexpectedly in her home Saturday, March 19, 1994.
She was born to Sam and Geneiveve Smith in Port Huron on April 30, 1943, and was a lifelong resident.
She was a graduate of Port Huron High School in the Class of 1961. She was employed by the St. Clair County Intermediate School District's Woodland Center for more than 22 years and was a special companion to all the children who attended there.
She is survived by her daughter, Andra Horvath of Fort Gratiot; two grandsons, Chad and Tyler, both of Fort Gratiot; mother, Geneiveve B. Smith of Port Huron; two brothers and sisters-in-law, Edward S and Joni Smith of Fort Lauderdale FL and Richard and Sally Smith of Bay City; one sister-in-law, Cecilia Smith of Clinton Township; uncle and aunt, Alex and Ardith Smith of Marysville; and several neices and nephews.
She was preceded in death by her father, Sam Smith in 1977, and a brother Norbert Smith in 1983.
Services were held on March 22, 1994 with Reverend Theodore Klein officiating. Burial was in Lakeside Cemetery.