Port Huron High School
Class Of 1961
In Memory
Margaret J Thornley (Foster)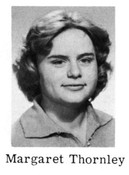 Mrs. Margaret J. 'Peggy' Foster, 56, of Port Huron, died Sunday, March 5, 2000, in her home after a valiant fight with cancer.
Margaret Justine Thornley was born June 11, 1943, in Mount Clemens. She moved to the Port Huron area with her family when she was four years old. She married Richard J. Foster on September 6, 1969, in Port Huron.
Mrs. Foster was employed by the Detroit Edison Co. as a clerk for 28 years, retiring in 1994. She had been president of B&L Industries since 1980. She also worked for the March of Dimes and the American Greetings Co.
She was an avid bowler and golfer. She was president of the Port Huron Women's Bowling Association, secretary of the Port Huron Golf Club Ladies League, was a Port Huron Sports Hall of Fame board member, a member of Quota Club and the Port Huron Garden Club.
She was also actively involved in volunteering with the March of Dimes and Salvation Army.
Mrs. Foster is survived by her husband of 30 years, Richard, her daughter, Michelle, her son, Patrick, her mother, Mary 'Sis' Thornley of Port Huron; two sisters, Judy Dallier of Port Huron and Mr. and Mrs. Kris (Heidi Thornley) Wisniewski of Lansing; two brothers, Mr. and Mrs. Jim (Nancy) Thornley and Arthur (Michele Banjanin) Thornley all of Livonia; an uncle, several aunts; cousins; nieces; nephews; and many dear friends.
Peggy was preceded in death by her father, Floyd Thornley; an aunt, Patricia Ballor; and uncles, Byron and Jack Erskine.
Funeral services were held on Thursday, March 9, 2000, in First United Methodist Church with the Rev. Ralph Pieper II officiating. Internment was in Mount Hope Cemetery Columbarium.