Port Huron High School
Class Of 1961
In Memory
Judith E Tikkanen (Schriner)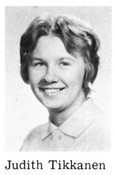 Judith E. Schriner, 41, died Sunday, January 20, 1985, in Mercy Hospital after a long illness.
She was born, January 2, 1944, in Detroit. She married Charles R. Schriner, August 30, 1963, in Port Huron.
Mrs. Schriner and her husband owned and operated the Boulevard Shop. She was a member of St. Martin Lutheran Church and Clowns, Clowns, Clowns.
She is survived by her husband; one daughter, Michelle L. Schriner, and two sons, Matthew R. Schriner and Martin R. Schriner, all of Port Huron; one brother, Richard Tikkenan, Detroit, and her father, Matt Tikkanen, Port Huron.
Services were held in St. Martin Lutheran Church with the Rev. Ted Menter, pastor, officiating. Burial was in Lakeside Cemetery.