Port Huron High School
Class Of 1961
In Memory
Barbara Ann Whybrew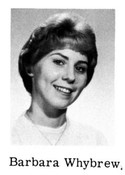 Barbara Ann Whybrew, 63, of Marysville, died Friday, June 15, 2007 in Mercy Hospital after a long battle with cancer.
She was born August 14, 1943 in Port Huron to Bud and Illa Whybrew.
Barbara retired from AAA as a branch manager in 1999 after 38 years of service. She was a member of First United Methodist Church of Port Huron.
She enjoyed crafts, gardening, making jewelry and she loved her dogs, Cinders and Sandy.
She is survived by her sister, Kay (Jack) Quinlan, of Marysville; her father, Bud (Norma) Whybrew, of Port Huron; a nephew, Kevin (Jill) Quinlan; four step brothers; several cousins; and many friends including a very dear friend, Becky Wall of Dayton, OH.
She is preceded in death by her mother and stepfather, Illa and Ervin Bailey.
Funeral services were held on Tuesday, June 19,2007 with the Reverend Ralph Barteld officiating. Burial was in Riverlawn Cemetery.