Port Huron High School
Class Of 1961
In Memory
Nathaniel I Woodyard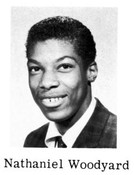 Mr. Nathaniel I. Woodyard, 51, died Wednesday, Sept. 14, 1994, in his residence after a short illness.
He was born May 2, 1943, in Port Huron, a son of the late Upton and Melvina Woodyard and had been a lifelong area resident.
He was a former Detroit Edison employee.
He is survived by five daughters, Carla, Krissi, Lori, Lisa and LaKasha; eight grandchildren; two sisters, Virginia (Arthur) McMillan of Port Huron and Cheryl (Charles) Waddell of Atlanta, Ga,; brothers Leonard (Charlene) Woodyard of Port Huron, Upton (Arlene) Woodyard and Robert Woodyard of California; aunt and uncle, Lucille and Fred Pippens of Port Huron; friend, Angela Brown of Port Huron; several nieces, nephews and a host of friends.
A memorial service was held at Jowett Funeral Home with Elder John Tate of Zion Tabernacle Church officiating.