Port Huron High School
Class Of 1961
In Memory
William R Bambusch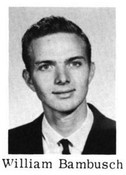 William R. Bambusch, 64, of Fort Gratiot, died Wednesday, January 3, 2007 after a long struggle with cancer.
He was born September 11, 1942 in Port Huron to the late Ernest and Anna Bambusch.
Mr. Bambusch was employed witht he U.S. Postal Service for 31 years prior to his retirement. He served in the U.S. Navy from 1961 to 1965. After retirement, he enjoyed traveling and camping with his wife, Lori, golfing, hunting and spending time with his dogs, Buddy and Bear.
He is survived by his loving with Lori; nine children Sandy Cope, Barbie Ann Lammertz, Glenn, Brian, Michael and Dallas Bambusch, David, Daniel and Darren Troy; 11 grandchildren; five great grandchildrenl his stepmother, Helen Bannister; two brothers, Leland and John Bambusch; two sisters, Mary Lou Frovarp and Joy Wint; and several nieces and nephews.
He was preced in death by a sister, Barbara.
Services were held January 6, 2007 with Reverend John G. Meredith officiating with Military Honors under the auspices of the St. Clair County Allied Veterans.