Port Huron High School
Class Of 1961
In Memory
Sally E Benedict (Oliver /Bennett)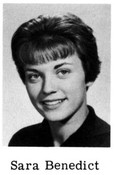 Sara Elizabeth (Sally) Bennett passed away peacefully in her home in Melvin December 1, 2010. Sara was born in Port Huron on March 15, 1943. She married Richard J. Bennett on June 17, 1975. He survives her.
Sara graduated from Port Huron High School in 1961 and received an Associate Degree from Port Huron Junior College (now St. Clair Community College). She earned a Bachelor Degree from Michigan State University, with an emphasis in social services, and was employed for more than 26 years with Sanilac County Community Mental Health. After her retirement, she served as a volunteer Public Guardian for Sanilac County Probate Court, where she provided the advocacy and attention necessary to ensure comfortable lives for those in her care.
Among Sara's personal interests was acquiring information and expertise about dolls and doll collecting. She learned from books, journals, doll shows, and by contacting experts. She was a voracious reader of fiction, nonfiction, history, and the classics. Charles Dickens was a favorite. Sara became the informal family genealogist by applying her determination, intelligence, and puzzle-solving skills to accumulate information about descendants over three or more centuries.
Sara and her husband enjoyed camping over the years in their fifth-wheel camper, especially in Presque Isle, north of Alpena.
Sara loved animals. There have always been dogs and cats in the Bennett household, and their large yard has been refuge for numerous feral and dropped-off cats for many years. Shelter and food have been provided for the whole gang, not to mention occasional visits to the vet and other kinds of special care.
In addition to her husband, survivors include son Andrew Oliver and grandson Gabriel; son Timothy (Samantha) Bennett and grandchildren Valerie, Natalie, and Stephen; sister Martha Benedict (James Wallington) and nephew Daniel (Kathleen) Fitzgerald; sister-in-law Karole (Roy) Losey, nephew Jason Vondrak and niece Keri Vondrak.
Other survivors include beloved lifelong friend Terry Krueger and special friends Donna Sefton, Mary Simon, and Halusia Witowski.