Port Huron High School
Class Of 1961
In Memory
Larry J Cameron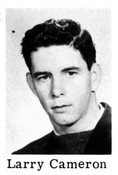 Larry James Cameron, 68, passed away Friday, April 9th in his West Linn, Oregon home. Larry was born April 4, 1942 in Port Huron, MI. He served 2 years in the Army followed by 4 years in the Air Force and married Sherry Curtright in 1964.
He became a master plumber in 1965 and had his own plumbing company, Cameron Plumbing for 35 years. Larry is a light that will be missed on this earth. Larry was preceded in death by his parents, George and Virginia; and brother, Robert. He is survived by his wife of 47 years, Sherry; daughter, Melody Douglass (Stephen); son, Greg Cameron (Jennifer); brothers, Don, Rick, and Roger Cameron; and six grandchildren.
A memorial service with military honors was held.