Port Huron High School
Class Of 1961
In Memory
Malcom Crawford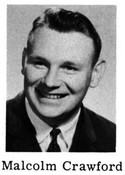 Mr. Malcolm J. "Mick" Crawford
April 11, 1942 - August 25, 2019
Malcolm J. "Mick" Crawford, 77, of Port Huron, passed away peacefully in his sleep at his home on August 25, 2019.
He is survived by his sister, Nancy E. Crawford of Port Huron; sister, Mary Ann Crawford of Bellingham, Washington. Mick would also like to thank his loving caregiver and friend, Tom Roach.
Cremation has taken place. Arrangements are in care of Jowett Funeral Home, 1634 Lapeer Ave. @ 17th Street, Port Huron.