Port Huron High School
Class Of 1961
In Memory
Charles J Evans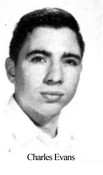 Charles J. Evans, 60, of Kimball Township, passed away on October 23, 2002 in University of Michigan Hospital, Ann Arbor.
He was born September 27, 1942 in Port Huron to the late Lawrence and Evelyn Evans. He married Kathy Schindler on September 26, 1987 in Port Huron. He was employed with the Ford Tractor Plant in Romeo and then later at Riverside Metals.
He was heart transplant number 230 at the University of Michigan in 1993. He loved gardening, talking to people, and telling jokes. He was a member of the Knights of Pythias. He served in the US Army Reserves for eight years.
He is survived by his wife, Kathy; two sons, Mr. and Mrs. Anthony (Ramona) Evans of Rose City and Paul C. Evans of Kimball; two daughters, Tammy Delaney and Kristina Eastman of Rose City; seven grandchildren, Christopher, Alexandra, Devin, Derek, Samuel, Paige, and Cole; Father-in-law and mother-in-law, George and Mary Schindler of North Street; a sister, Mary Hurst of Clyde; three brothers, Mr. & Mrs. Harold (Ruby) Evans of Kimball, Robert Evans and Donald Evans, both in Clyde; an aunt, Gladys Warner of Clyde; Sister-in-law, Lori (Joe) Schott of Yale; 2 brother-in-Iaws, Mr. & Mrs. Daniel (Nancy) Schindler of Kimball and Mr. & Mrs. Stephen (Barbara) Schindler; and many nieces and nephews.