Port Huron High School
Class Of 1961
In Memory
Roy A Heino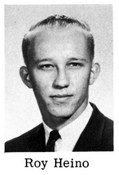 Roy Alan Heino passed away August 22, 2006 in Florida from pancreatic cancer. He was preceded in death by his wife who passed in 2001 from the same cause. Roy and his wife had three sons.
Roy was a hockey enthusiast and played varsity for Michigan Technical University in Houghton. He graduated in 1966. After graduation, he continued playing hockey in the amateur and semi-pro leagues, including the Sarnia Legionaires. In 1972 he reached the final cut for the USA Olympic Hockey Team, losing out to Marty Howe, son of the Detroit Red Wings star Gordy Howe.
Roy was a Mechanical Engineer and worked most of his career for Honeywell, starting in Minnesota and ending in Joliet IL.
No obituary was published. Thanks to David Heino, Roy's brother for this information.