Port Huron High School
Class Of 1961
In Memory
Michael J Innes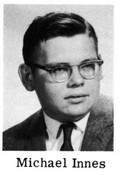 April 2nd, 1943 to November 20th, 2017

Michael James Innes, 74, of Marysville, died Monday, November 20, 2017.

He was born April 2, 1943 in Port Huron to the late William and Inez Innes. He married the love of his life, Tommie Lou Burleson on October 16, 2004. She died May 5, 2013.

Michael was an 8th grade teacher and football and basketball coach for the East China School District for 38 years. He was a Past Exalted Ruler of the B.P.O.E. Lodge #343 and was instrumental in the construction of the new lodge and golf course in its current location. He also operated Huron Carts golf cart rental for many years.

He is survived by his daughter, Krista (Randy) Moore; son, Rob Burleson; grandson, Austin Burleson and Austin's mother, Cecile Tooley; and cousins, Margaret Wolfe, Connie Brusa, Judy Redmond, and Mary McDonald.