Port Huron High School
Class Of 1961
In Memory
Billie J Keeler (Keller)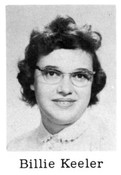 According to her brother, John Keeler, Billie passed away June 6, 2005 in Ashville NC.
"Billie was deeply involved with her church and especially with the deaf community. She was a signer. She also loved to sew.
"Billie was a homemaker for her whole life. She and her husband Ron raised two children; Pamela and Gregory. Pamela lives in Middleton PA and has 3 sons. Gregory lives in Troy NC and has 2 children.
"Ron Keller, her husband, was worked for a manufactured home company," John stated. John graduated from PHHS in 1964 and lives in Livonia.