Port Huron High School
Class Of 1961
In Memory
Floyd L Krauss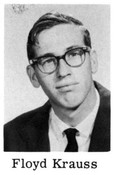 R.I.P. Floyd L. Krauss February 5, 2015
Floyd L. Krauss, age 71, of Port Huron died February 5, 2015 in his home after a long illness. He was born April 1, 1943 in Port Huron to George and Lorene Krauss, and was a lifelong Port Huron resident. He attended Garfield School and graduated from Port Huron High School in 1961. Floyd worked for over 30 years in the furniture business retiring in November 1999.
He is survived by his wife Nancy Krauss; 4 sons, Jeff, Brian (Lisa), Andrew, and Kevin Krauss; 4 grandchildren, Jennifer (fiancé Jonathan), Stephanie, Heather and Scott Krauss; 2 sisters, May Willis and Linda (Gary) Corwin; 2 brothers, Dave (Lois) Krauss and Norm (Janet) Krauss; his mother-in-law, Shirley Postill; a brother-in-law, Jim (Grace) Churcher; a sister-in-law, Marlyn Porter; and many nieces and nephews. He was preceded in death by his parents; a sister, Barb Churcher; a brother, Harold Krauss; a brother-in-law, Curtis Willis; and a sister-in-law, Mary Krauss.
Funeral service was held at Smith Family Funeral Home - North, 1525 Hancock Street with Kirk Kramer of Wadhams Grove Community of Christ officiating. Burial followed in Lakeside Cemetery. His sons were be pallbearers.
Posted 60 days until August 15, 2015.