Port Huron High School
Class Of 1961
In Memory
Gloria Diane Lashbrook (Bringard)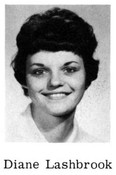 Gloria "Diane" Bringard (Lashbrook) January 9, 1943 - February 24, 2015
Gloria "Diane" Bringard, age 72, of Melvin, passed away on February 24, 2015, in the United Hospice Residence in Marlette, with her family by her side. She was born on January 9, 1943, in Port Huron, to the late George and Charlotte Lashbrook. She married Richard E. Bringard on May 29, 1965, in Peck. She was a member of St. John's Catholic Church in Peck and a member of the Melvin Golf League.
She enjoyed golf, her garden, the casino, sewing and working with Alan Jowett at Randalls Flowers and Gifts. She was a loving wife, mother, grandmother and great grandmother.
She is survived by her husband, Richard E. Bringard of Melvin; son, Timothy (Theresa) Bringard of Capac; daughter, Deborah Bringard of Melvin; and son, Thomas Bringard of Brown City; 5 grandchildren; Kayla, Megan, Aaron, Dylan and Brooklyn; great granddaughter, Allison; sister, Beverly Lashbrook of Melvin; brother, Richard (Marge) Lashbrook of Marysville; along with several nieces and nephews.
She was preceded in death by a brother, George Lashbrook. A memorial mass was held. Memorial tributes can be made to: United Hospice of Marlette. Cremation arrangements were by: Jowett Funeral Home.