Port Huron High School
Class Of 1961
In Memory
Sally Lashbrook (DiDuca)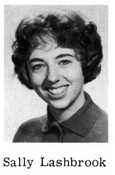 Sally A. DiDuca, age 66 of Port Huron died unexpectedly of natural causes in her home on November 8, 2009. She was born August 28, 1943 in Port Huron and was a life long area resident.
Sally recently retired from Target. She is survived by her mother, Opal M. Swanson of Port Huron, 2 brothers, David (Sandy) Lashbrook of North Street, and Terry (Kathy) Lashbrook of Clyde, nieces and nephews, Mark and Mike Lashbrook, Tina (Matt) Foulks and Aaron (Kristie) Lashbrook, and 6 great nieces and nephews.
She was preceded in death by her father, Mark Lashbrook. Cremation has taken place. There will be no service or visitation. Smith Family Funeral Home – North, 1525 Hancock Street handled cremation arrangements.