Port Huron High School
Class Of 1961
In Memory
Thomas R Mertz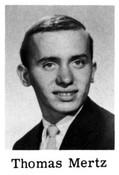 Thomas R. Mertz, 67, passed away after a short illness, on Sunday, April 4, 2010 at MidMichigan Medical Center, Midland, Michigan. He was born on March 11, 1943, in Port Huron, Michigan to John and Caroline (Falk) Mertz.
He married Joan Rock in Port Huron on June 6, 1964. He was employed for McDonald's in Port Huron, then moved to Gladwin in 1982 where he became Owner/Operator of McDonald's in Gladwin, Harrison, Reed City and Evart, retiring in 1997 after 38 years. He was a member of Christ the King Lutheran Church, Gladwin as well as a member of F.O.E. Gladwin Aerie 3292.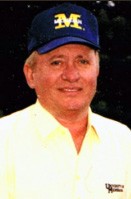 He is survived by his wife: Joan Mertz of Gladwin; daughter: Kimberly (Matthew) Patteen of Beaverton; son: James Thomas (Jennifer) Mertz of Grayslake, Illinois; grandchildren: Shon, Jared, Thomas, Trinity, Ronnie, Elizabeth & Katherine; sister: Deborah Hopkins of Florida; brothers: Ronald Mertz of Wadhams; David (Irene) of Port Huron; several nieces & nephews. He is preceded in death by his parents; best friend: Jack Emeott Sr.
Funeral Services will be conducted on Friday, April 9, 2010, 11:00 a.m. with visitation beginning at 10:00 a.m. at Christ the King Lutheran Church, Gladwin. Pastor David Sprang will officiate. Visitation will be held at Hall-Kokotovich Funeral Home, Gladwin on Thursday, April 8, 2010 from 12 noon until 9:00 p.m. In lieu of flowers, memorial contributions may be made to the Ronald McDonald House or the Humane Society.