Port Huron High School
Class Of 1961
In Memory
Robert C Rock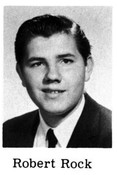 Mr. Robert Christian Rock, 66, of Port Huron, passed away on Monday, January 11, 2010. He was born November 27, 1943 in Port Huron to Lewis and Anna Rock.
He married Elizabeth Ward on October 21, 1967 in Port Huron. Mr. Rock was a police officer with the City of Port Huron, retiring in 1993 after 25 years of service. He then worked with St. Clair County Family Court for ten years. He served in the U.S. Coast Guard.
He and his wife were foster parents, caring for 109 children over 24 years. Robert enjoyed cooking, history and spending time with his children and grandchildren.
He is survived by his wife, Liz; three sons, Robert (Donna) Rock II of Richmond, Jonathon Rock and Jacob Rock, both of Port Huron; four daughters, Marnie (Jim) DeBell of Marysville, Crystal Rock, Christina Rock and Hailey Rock, all of Port Huron; seven grandchildren, Owen, Jon, Holly, Lydia, Julie, Charlie and Elise; four sisters, Sally (Floyd) Horley of Fort Gratiot, Patti (Mike) Watson of Tennessee, Lillian (Dave) Cote' of Port Huron and Marlene (Dennis) Sherman of Vicksburg; and many nieces and nephews. He was preceded in death by three sisters, Marie Kenner, Ruth Beaver and Dorothy McTaggart.
Visitation will be 2-4 and 6-9 p.m. Thursday in Pollock-Randall Funeral Home. Military honors will be conducted under the auspices of the St. Clair County Allied Veterans at 4 p.m. Thursday. A Memorial Mass will be held at 11 a.m. Friday, January 15, 2010 in St. Joseph Catholic Church. The Reverend Brian Cokonougher will officiate. Memorial contributions may be made to St. Joseph Catholic Church.