Port Huron High School
Class Of 1961
In Memory
Miles M Marlatt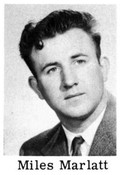 March 19th, 1943 to May 14th, 2021

Miles Mallory Marlatt Jr., 78, of Fort Gratiot, died Friday, May 14, 2021.

He was born March 19, 1943 in Croswell. He married Kathleen L. Deaner in 1973 in Port Huron.

Miles enjoyed collecting cars and going to car shows. Most of all, he loved spending time with his family.

He is survived by his wife of 48 years, Kathy; four children, Lynn Marlatt, Cody (Amy) Marlatt, Cory Marlatt and Ronda Harding; five grandchildren, Kassie (Brandon) Smith, Alisha Harding, Alana Marlatt, Chý Marlatt and Gemma Marlatt; four sisters-in-law; three brothers-in-law; and several nieces, nephews and cousins. He was preceded in death by his parents, Kathryn and Jacob Mayer; and a sister, Grace Marlatt.